Why Restore Your Old Deck?
A. Save Money
Prevent Further Rotting.

Finishing your new deck seals the wood and repels water. Rather than soaking up water in the rain it will repel the water and keep it from seeping into the wood pores. The end result is a restored deck that will rot less and last longer and prevent a new deck bill.

Fix Splintering & Cracks.

 Over time deck boards splinter and crack. The board wear and become water logged. In cold weather the water freezes and forces the wood grains to break apart. If this repeats numerous times, the wood structure deteriorates and the wood splinters and cracks. Our new deck refinishing products reseal the board and prevent water from soaking into them.

Deter the Elements.

 Direct exposure to the sun can hurt the wood structure over time. With a new coat of finish this deters the UV rays that eventually destroy the deck wood.
B. Revive Deck Aesthetics
Restore Wood Color.

 The sun and rain discolors the wood. However with a cleaning, sanding, and refinishing the wood it is again restored to a more natural wood color.

Prevents Warping.

Exposure to the elements can cause decks to warp. Deck restoration and a new finish slows down the warping.

Eliminate Mildew.

 SuperDeck® coatings are designed to inhibit the growth of mildew. The smooth surface also makes it easier to clean and keep mildew under control.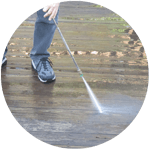 Step 1
PRESSURE WASHING
 is the first step in restoring your deck. This removes the dirt, mold, mildew, and other residue that has built up over the years. Removing the residue helps the finish to stick and last.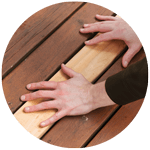 Step 2
REPAIRS 
are made where needed. This includes replacing any broken, cracked, or warped boards. It also includes tightening loose screws, refastening loose boards, and any other needed pieces.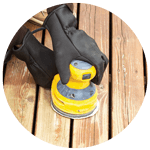 Step 3
SANDING
is key to preparing a deck to be refinished. This removes nasty splinters, flattens uneven stumble points and gives the deck an overall nicer surface. It produces a better refinished deck.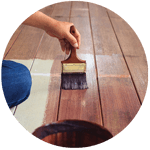 Step 4
APPLYING THE FINISH
is the last step in restoring your deck. We use and recommend
SuperDeck® coating products
. These sealers do well in turning a rough looking deck into a pleasant deck once more.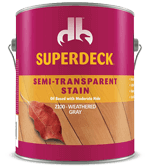 Oil-Based Wood Stain
Formulated to resist mildew and algae growth
Fortified for scuff resistance and water repellency
For all exterior and pressure-treated wood
Available in a 63 color palette
Shows subtle wood grain
Durable and lustrous sheen finish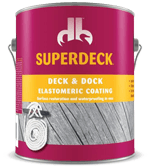 Deck & Dock Coating
Formulated to resist mildew and algae growth
Fortified for scuff resistance and water repellency
Can be used on new wood and old wood
Elastromeric coating to protect, resurface, and waterproof old decks
Works over existing exterior paint and stained surfaces
Locks down splinters and bridges cracks on old wood
Other Deck Services
Our handyman services include anything from simple deck repair to more complex deck finishing, as well as more involved deck restoration and refinishing.